Florida Power & Light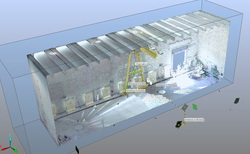 St. Lucie Nuclear Power Plant erected an On-Site LLRW Storage Building capable for expansion to a five year inventory of High Integrity Containers (HIC). Dufrane Nuclear Shielding, Inc. (DNSI) designed, fabricated and installed the initial Shield Wall Modules located to prevent streaming at multiple Louvered openings in the Facilty walls. Utilizing DNSI personnel and equipment the project was completed under-budget and ahead of schedule.
Dufrane value-engineered the internal cubicle type shielding in an expandable arrangement to accommodate the five year storage plan. DNSI utilized our 3-Dimensional imaging capabilities to determine true/accurate as-built dimensions of the building internals as a design input for the project.