Security Barriers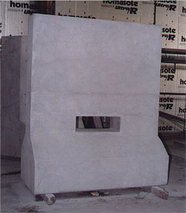 Security wall modules are steel reinforced concrete interlocking components, with or without a gun port, and the capability to add razor or Concertina wire. An efficient mobile security barrier.
"The events of September 11, 2001, have changed the Nation's safety and security paradigm for the possession and storage of byproduct, source, and special nuclear materials." (NRC Regulatory Issue Summary 2008-12, page 2) Dufrane Nuclear Shielding, Inc has developed a variety of products to establish a solution to this situation.
Security Wall Modules are steel reinforced concrete units that are Dufrane's solution to an efficient mobile barrier system. The modular interlocking security shields are available in 8' or 10' heights with or without a gun port. The module sits on a wide base of 3' that can taper to either a 12" or 18" riser. The modules can be configured to be long straight walls as well as corners, depending on design. The shields may be equipped with threaded inserts on the top surface for installation of eyebolts or peripheral equipment such as cameras, barbed wire and lighting.
For additional information, including the latest product cut sheets, please use our Contact Us page.