Wall Modules
Dufrane's Wall Modules may be arranged to provide shielding for a variety of situations to include specific process operations, process equipment or LLW storage areas. A diversity of profiles and dimensions are available to best suit your needs for use indoors or outdoors.

Material of construction is steel reinforced concrete with a density of 150 PCF and 5,000 psi. minimum compressive strength after 28 days. All shield wall modules are prepared and painted with two coats of two part epoxy, color beige. No coating is provided on the bottom.

Lift anchors located on the top surface of each Shield Wall Module are rated to exceed the total weight, plus safety factor. The Lift Anchors are a part of an industry wide handling system for concrete products. An essential part of this system are Ring Clutches, which are engineered safety clasp devices designed to engage the Lift Anchors. The Shield Wall Modules have a tongue and groove interface which eliminated direct streaming between units. Individual modules may be provided with 12" or 18" thickness at their upper portion. Shield Wall Modules taper from top to 28 3/8" thick at the base.

Shield Log

Features:

Constructed of steel reinforced concrete.
Standard size measures one foot square by eight feet in length.
Each individual Shield log (standard) weighs approximately 1,200 lbs.
Stepped interlocking design eliminates streaming at the seams.
Each module uses two threaded inserts to facilitate the lifting and moving of each piece.
Reusable eye-bolts are inserted and removed into each module, without interfering with the flush seams.
Size can be modified to accommodate site specific requirements (i.e. floor loading, shield thickness, configuration, etc.)
Ball and Socket Concrete Shielding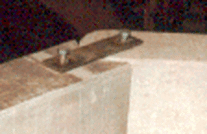 Features:
Each piece constructed of steel reinforced concrete for maximum shielding and durability.
Each module is painted for ease of decontamination.
The cylindrical end pieces permit the modules to be positioned at angles up to 45 degrees.
Flexible, and able to conform to "odd" shapes.
Possible to configure to form a complete shielding circle.
Interlocking ends significantly reduce streaming at interface points.
Carbon "straps" function as stabilizer plates.
Each module is equipped with threaded lifting.
Additional connector plates available for any Shielding Module Design, for structural rigidity.
For additional information, including the latest product cut sheets, please use our Contact Us page.